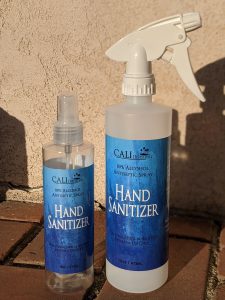 With the following tips, use common sense.  Don't use gels if a residue is to be avoided.  Some uses are better with gels.
Polish Silver
Hand sanitizer cuts right through tarnish on silver. Squirt a few drops of liquid, not gel, hand sanitizer on a soft cloth or cotton ball and rub away the tarnish.  HowStuffWorks
Eyeglasses Cleaner
Non-gel hand sanitizer helps remove fingerprints and even hairspray from your eyeglasses.  WARNING:  Do not use if you have anti-reflective coating.
Emergency Deodorant
The reason armpits start to smell is bacteria. Rubbing hand sanitizer in your armpits will keep you smelling fresh when you forget to roll on your roll-on.  Lifehacker
Zits
Pimple inflammation is caused in part by bacteria on your skin.  A drop of hand sanitizer on will cause immediate relief. Ditto bug bites.
Dry Shampoo
Look fresh-washed when you don't have time for washing and blow-drying or are having a bad hair day — try some hand sanitizer: squeeze some onto your fingertips and massage lightly into your roots, and your hair will look good.
Clothes Iron Cleaner
If you haven't cleaned the surface of your flat iron in a while, grab your hand sanitizer and get to work. The iron can be coated not only with hair products but bacteria. After the iron cools down, smear on some hand sanitizer, wait a few minutes, and then wipe it clean.
Hairspray on Your Mirror
With hairspray, it's easy for the mirror to get messy. Getting it off your mirror can take a little effort—simplified with hand sanitizer.  Put some on a cloth or paper towel, wipe, and enjoy the view again.
Makeup Brush Restorer
Clean makeup brushes by rubbing them with hand sanitizer after you wash them and allow them to dry completely.  Who cleans their makeup brushes? There is high chance of bacteria accumulation on makeup brushes which may cause skin problems.
Whiteboard Restorer
If your kids—or you—accidentally wrote on your whiteboard with a Sharpie or other permanent marker, there's an easy cure: write over the permanent marker with a dry erase pen then wipe it all off using hand sanitizer. You may need to do this a few times to remove all traces.  Alcohol-based hand sanitizers are better than "natural" sanitizers at cleaning your dry erase board.
Remove Permanent Marker from Clothing
Yep, you can use hand sanitizer to get permanent ink off clothing too. Dab at the stain, instead of rubbing.  Put newspaper between layers so that the ink doesn't bleed from one layer to the other.
Pre-treat Laundry Stains
Tide detergent admits that a bit of hand sanitizer can effectively pre-treat stains on clothing. Rub some in, let it sit for one to three minutes, blot it away and apply Tide, and then wash as directed on the garment's label.
Remove Label Adhesive
Like hairspray, adhesive residue is tough to remove with just soap and water. Whether you're removing adhesive residue from your skin, furniture, wall, new dishes, or a handbag, hand sanitizer will make the job easier.
Gently Remove a Bandaid
Instead of ripping off an adhesive bandage, rub some hand sanitizer over the sticky ends to release the adhesive. Wait a minute, and then painlessly remove the strip.
Computer Keyboards
Your keyboard can be just as dirty as a toilet seat.  To address the keyboard problem, keep your hands clean, and wipe your keyboard with hand sanitizer on a cloth—preferably microfiber. Be sure to unplug it or turn it off first.  HowStuffWorks
Computer Mice
Your computer mouse is every bit as filthy as your keyboard, according to CNET. Wipe it down with a microfiber cloth and hand sanitizer. If you use a touchpad, give it the same treatment—after you shut everything down first.
Touchscreens
The fact that it's called a "touchscreen" indicates that it needs cleaning from time to time. The best way, according to PC Tablet, is to squirt some hand sanitizer on that microfiber cloth you've been using and wipe gently.
Public Toilet Seats
Before you sit down on a public toilet seat, spray some hand sanitizer on a wad of toilet paper and wipe down the surface.
Nail Polish Remover
Don't have nail polish remover on hand? Clean up your nails with hand sanitizer.  Apply some and let it sit for one minute. Using a cotton pad or tissue, wipe away and then repeat until your nails are clean.
Exercise Equipment
One recent study found treadmills to be 74 times dirtier than a water fountain, and free weights 362 times buggier than a toilet seat—and more than 70% of those bugs were potentially dangerous to humans.   Don't forget the yoga mat.
Fingerprints on Appliances
You don't need stainless steel cleaner if you have hand sanitizer. On a cloth, the sanitizer gel will remove fingerprints, spattered oil, and other grease marks.
Diamond Rings
While not all gemstones are candidates for cleaning by hand sanitizer, diamonds can take it and will sparkle.  If the setting is gold- or silver-plated this isn't advised as the cleaner can mar the plating.